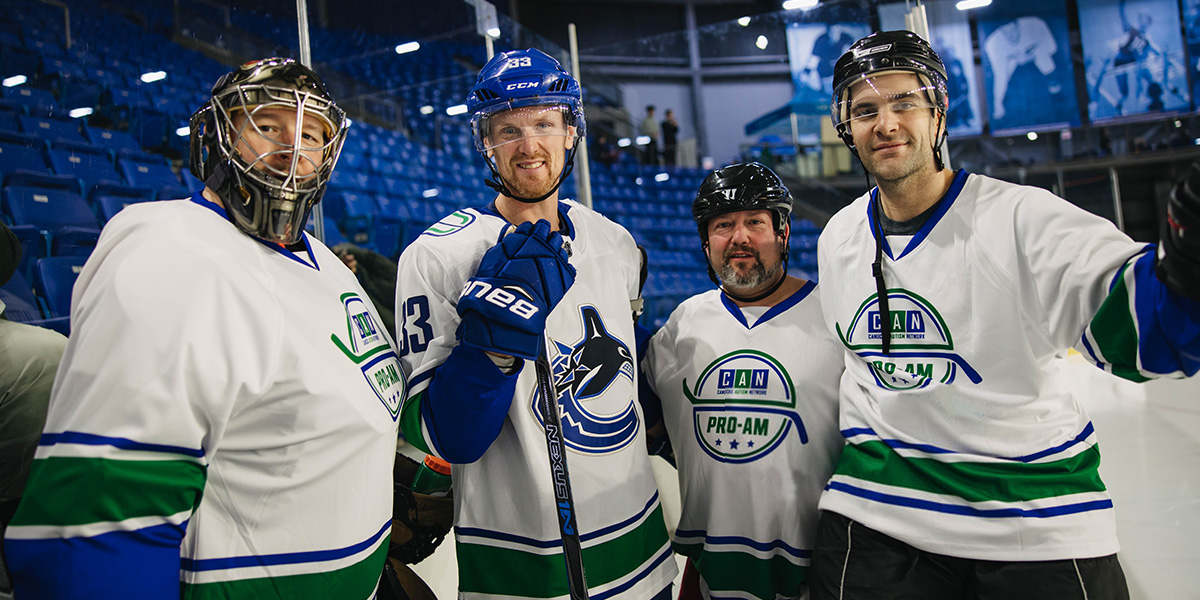 Weekend Overview

Welcome to the best weekend of your life!

The CAN Pro-Am, presented by Dallas Watt Demo Ltd, gives rec and corporate teams an unforgettable experience on and off the ice with NHL Alumni.
View the 2022 Player Info Pack >
View the 2022 Tournament Schedule >
View the 2022 Final Standings >
---

Draft Night
Friday, November 18
The Westin Bayshore, Vancouver
"It's intimidating when you go into that draft. You don't want to be the last one picked!"
-Todd Bertuzzi, 1st overall selection in 2020
The weekend kicks off with food and drinks, while you gather with your team for a draft day decision.
Does your lineup need a boost on offense? Past NHL Alumni have included the Sedins, Bertuzzi and Jannik Hansen. Maybe you need to shore up your blueline. How about someone like Josh Gorges or Dave Babych? Both are previous tourney regulars.
The more funds your team raises, the higher you draft.

Once you've called your NHL Alumni on stage, the rest of the evening is for your team to game plan, share stories and share a drink with your new ringer.
---
2-Day Tournament
Imagine scoring on a drop pass from Brad May. Or trying to deke your way around Dave Babych.

View our roster
of participating
NHL Alumni
. You'll be lining up with the same stars you used to watch every night on Sportsnet.
Teams will play three games over the weekend (typically two on Saturday and one on Sunday).
Each player will receive:

Fully-stocked dressing rooms


Sock tape, stick tape, hydrating drinks, snacks, towels & more

Personalized equipment


Jerseys, socks & designated locker stalls

And more!
---