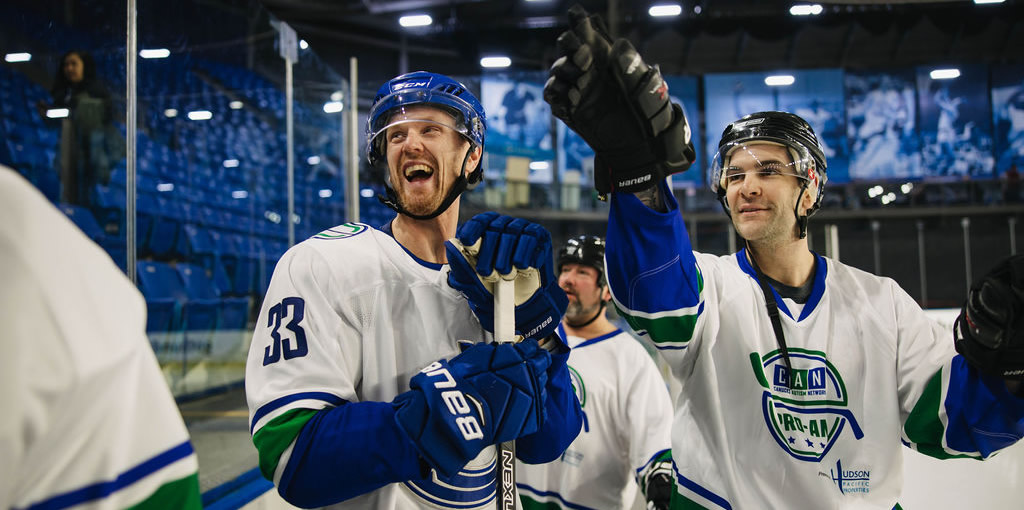 Weekend Overview

Welcome to the best weekend of your life!

The CAN Pro-Am, presented by Hudson Pacific Properties, gives rec and corporate teams an unforgettable experience both on and off the ice with their hockey heroes.
View the 2021 Player Info Package >

Draft Night
Fri, Oct 22 | Westin Bayshore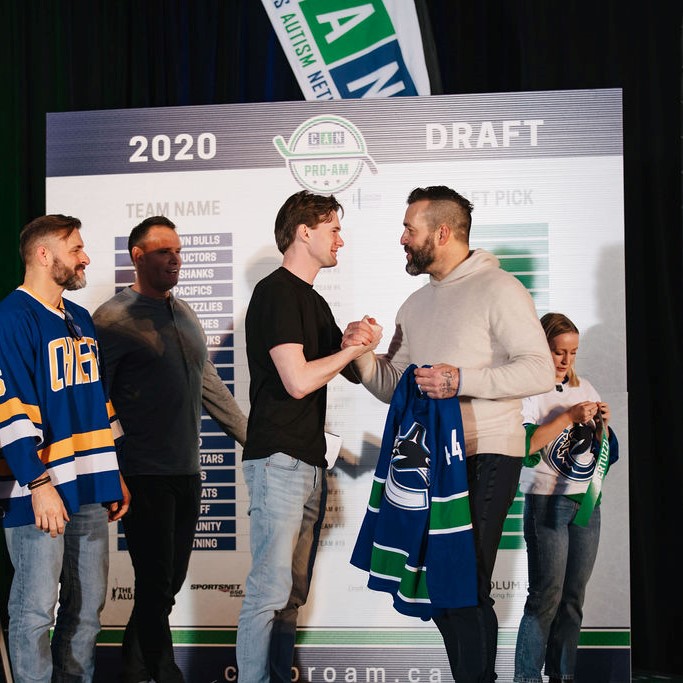 "It was our team's turn to draft and we couldn't decide. We were stuck betweeen a former NHL All-Star and a former Vezina nominee."

The weekend kicks off with food and drinks, while you gather at your team table for a draft day decision.
Does your lineup need a boost on offense? Past NHL Alumni have included the Sedins, Todd Bertuzzi and Brendan Morrison. Maybe you need to shore up your blueline. How does someone like Josh Gorges or Dave Babych sound? Both are two-time tourney particpiants.
The more funds your team raises, the higher you draft.

Once you've called your NHL Alumni on stage, the rest of the evening is for your team to game plan, share stories and share a drink with your new ringer.
Draft Night is an exclusive event for tournament participants only. As per provincial health orders, all attendees will be required to provide proof of their first dose of the COVID-19 vaccine.
---
2-Day Tournament
Sat, Oct 23 & Sun, Oct 24
Doug Mitchell Thunderbird Sports Centre
"I scored a hat trick and one of the goals was assisted by Taylor Pyatt and Mason Raymond. I'm speechless."

Imagine scoring on a drop pass from Brendan Morrison. Or trying to deke your way around Dave Babych.

Each player will receive:
Fully-stocked dressing rooms


Sock tape, stick tape, hydrating drinks, snacks, towels & more

Personalized equipment


Jerseys, socks & designated locker stalls

And more!
---
Tournament Health & Safety



Off-Site Player Lounge

Due to facility COVID-19 policies, there will be no on-site player lounge this year; players must immediately vacate the arena once their games are finished. Teams will instead be given gift cards to enjoy post-game food and drink at BierCraft (UBC Wesbrook location).
No Spectators

Due to facility COVID-19 policies, spectators will NOT be allowed this year. This includes friends & family of tournament participants.

Proof of Vaccination
As per provincial health orders players will need to provide proof of their first dose of the COVID-19 vaccine on Sat, Oct 23. They will additionally need to provide proof of full vaccination on Sun, Oct 24. One is considered fully vaccinated 7 days after their 2nd dose.

We are keeping up to date on all provincial health orders and will keep players up-to-date every step of the way.

We thank you in advance for your understanding, as we continue to navigate the health situation in BC and beyond.