Explore this year's wineries, distilleries & cidery!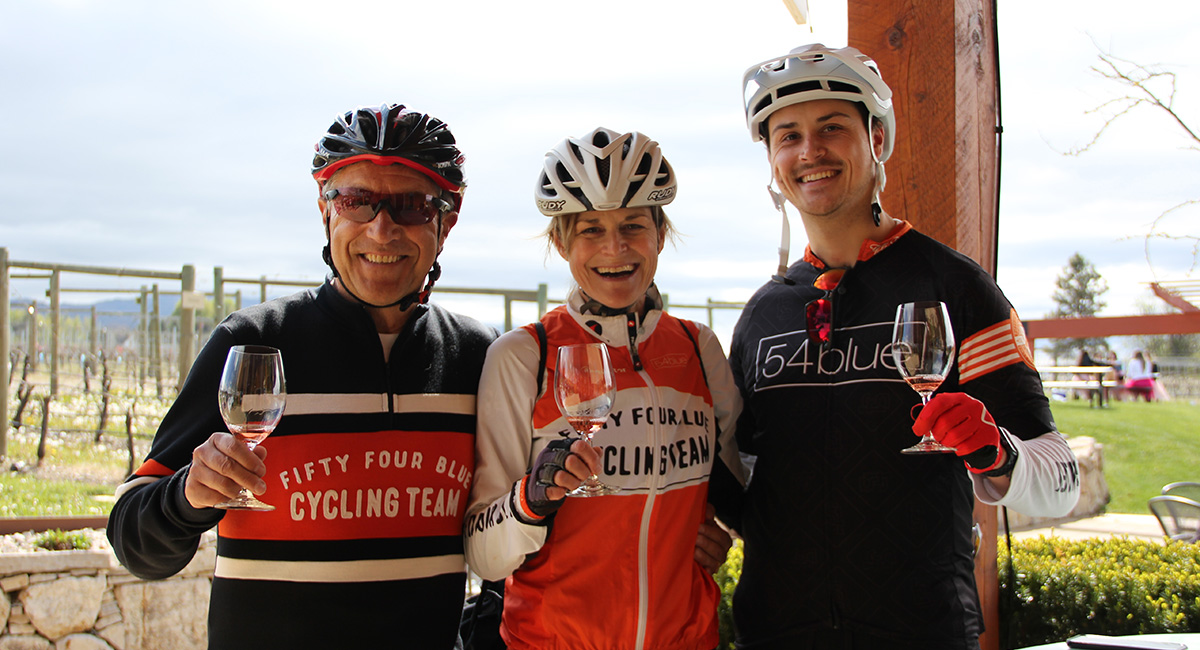 7 wineries, 2 distilleries & 1 cidery.
2023 participants will choose from 10 potential stops in East Kelowna's beautiful wine country!
Kitsch Wines (Ride Host)
The 2023 DM Ride for Autism, presented by Nicola Wealth, will begin and end at Kitsch Wines.

The Kitsch family's Okanagan roots stretch back to 1910, when Kelowna was still a small, lakefront pioneer settlement. Four generations later, this entrepreneurial family takes great pride in helping to shape the past and the future of the Okanagan Valley.
kitschwines.ca
Meadow Vista Honey Wines
Located on a five and a half acre farm, nestled amongst the orchards of East Kelowna. In partnership with their beekeeper, the farm is home to 110 hives of hardworking honeybees. Meadow Vista Honey Wines have been told that their wines taste "like nature in a glass!"
meadowvista.ca
The Vibrant Vine
Wine, art and sound - an experience you will never forget! In 2003, Wyn and Marion Lewis put down roots in beautiful BC. After accidentally winning 'Best White Wine in the World' at the World Beverage Competition in Geneva, Switzerland (ask them about it, it's a great story!) their lives changed forever, and today they're more vibrant than ever!
thevibrantvine.com
The View Winery
A family owned estate winery overlooking Kelowna and Okanagan Lake. With a strong commitment to quality the View Winery is proud of their award winning aromatic cool-climate whites and our fruit forward, spicy reds. Tucked into a charming 1920`s era vintage building, their wine shop is an eclectic and inviting stop for a truly authentic experience.
theviewwinery.com
Priest Creek Family Estate Winery
Priest Creek Family Estate Winery's desire is to provide a collection of quality premium wines which can be shared today or cellared for the future. Founded through Darren and Jane's wish to raise their children on a vineyard, they are located on the South Kelowna Wine Trail in the beautiful Okanagan Valley, boasting beautiful mountain vistas from each direction.
priestcreekwinery.com
Soma Cidery
SOMA is a farm based cidery in the Central Okanagan Valley. The land their farm is on was originally cleared by a team of horses but the years passed and the land fell into disuse and lay fallow. Tilled and planted in 2016 and first harvested in 2018, the land was reclaimed and the work of producing our hard apple cider began.
somacidery.com
SpearHead Winery
SpearHead Winery is located near the top of Spiers Road on the benchlands of south east Kelowna. They focus on premium quality wine which they produce from grapes grown on their estate vineyard and from selected Okanagan Valley vineyards. The hand harvested grapes are sorted at the winery and fermented in small lots.
spearheadwinery.com
Tantalus Winery
Tantalus Vineyards was founded on the belief that exceptional wines made from a single vineyard of outstanding pedigree, would capture the palates of those seeking authenticity and a sense of place. Situated on the eastern slopes of the Okanagan Valley, overlooking the shores of Lake Okanagan and the City of Kelowna. The site was first planted to table grapes in 1927 and today is known as one of the oldest continuously producing vineyards in British Columbia.
tantalus.ca
Forbidden Spirits
Forbidden Spirits is a collection of ultra-premium brands. Made with 100% BC apples, many grown in their very own estate orchards with bespoke local botanicals and handcrafted with care. forbiddenspirits.ca

Wiseacre Farm Distillery
They say it's 'the little things' that matter most. Wiseacre is aiming to prove that to be true by producing small-batch, quality spirits in a cozy corner of East Kelowna. Each step in the production process is carried out by hand, by a passionate and nimble team. The philosophy and profile of their spirits is inspired by 6 sweet acres of farm and forest surrounding the still house and tasting room. With many ingredients growing just a stone's throw from the still house, Wiseacre keep their spirits as 'local' as you can get. wiseacrefarmdistillery.com